Information
GEOGRAPHICALLY
The Central Anatolian steppes, the North Anatolian and Western Anatolian forests constitute the vegetation of Eskisehir. On the southern slopes of the Sündiken Mountains overlooking the Porsuk Valley, there are oak thickets after 1000 meters and then dwarf oaks. Eskisehir has a striking nature with its streams, dams and green structure.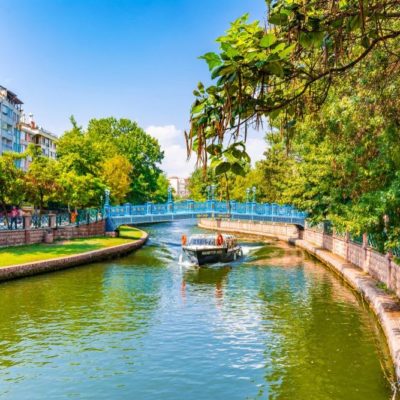 HISTORY
FIRST PERIOD: Prior to the discovery of the fire, there were fertile and deserted soils in the area from the Sakarya River to the Porsuk River. After the discovery of the fire, people came and settled in these fertile and rich mineral soils. Life lasted in caves, and then in towns formed with marble houses. In the course of time, people cultivated the wetlands and arranged them to live and multiplied there. However, other tribes living in fertile land started to migrate to the region. Their aim was to establish a life that would be common to these fertile lands ranging from Sakarya to Porsuk. For the first time, people living peacefully in the region met aggression and war. They fought hundreds and thousands of years ... Over time, both the world and humanity have changed and the war has ended in the region. Peace was provided for the future. However, immigrants were only allowed to use land and water. New possibilities were created and discoveries made in this struggle for wealth. Rich mineral resources, workshops and small factories were established, towns and villages were created. This region was named ESKİŞEHİR since the first people came to this region long before today and benefited from the fertility of the lands and benefited from rich resources, and developed and urbanized in a short time. If you walk around the wide area around Eskişehir, you will encounter some works belonging to the early ages of humanity. The lands of Eskişehir have kept thousands of cultures alive since the Stone Age. In 4000 BC, Eskişehir was accepted as the region with the highest population. In researches, towns and cities were found. In addition, it has been a center where Assyrian traders revive their business life. Eskişehir is within the western border of Phrygia. For this reason, the Phrygian Age occupies an important place in the history of Eskişehir.

URBAN GUIDE
Eskişehir, which has many civilizations based on Hittites and Phrygians, has brought the city closer to the level of developed European cities, with its two universities, cultural infrastructure, art structures, aviation center, planned industry, underground riches and social life options, as well as developing urbanism.
Eskişehir is also a city of education and science. With 12 faculties, 6 colleges, 3 Vocational Schools, 1 state conservatory and 7 institutes, Anadolu University and 9 faculties, 6 colleges, 5 institutes and 1 state conservatory have become the only Anatolian cities with two universities outside the metropolitan cities.
Railways which is the intersection point where the distribution regions in Turkey all kinds of rail, including locomotive production in Eskisehir capacity to the transport vehicle sugar factory with a large factory, Aircraft Engines making factory, aircraft and helicopter industry factories that Skorsky have in common is available. Compared with other organized industrial zones in Turkey, which has a rational layout and a wide range of Eskisehir factory producing machine in the Organized Industrial Zone, textiles, garments, food, electronics, and operates more than 200 factories in various sectors such ceramics factories.
Eskişehir Organized Industrial Zone generates its own energy and operates Eskişehir Science Parks with universities.
Technoparks in Western countries; it develops around a university and grows by the use of the know-how, device and laboratory facilities and library facilities of the universities by entrepreneur companies.
Anadolu Technology Research Park was also established for this purpose. Anadolu University Scientific Research Center conducts research on the production of pharmaceutical and cosmetic raw materials from plants, on the other hand, leads the industrial establishments with production in its pilot plants.
TUBITAK established along Ceramic Research Center (SAM) is producing advanced technology in its field and is the only organization in its field in Turkey who shared it with the sector. The Ceramic Research Center is also a pioneer of advanced technology research, called "nano-technology", which is about a millionth of a millimeter. In parallel with this development, the Ceramic Engineering Department at Anadolu University Faculty of Engineering has been transformed into the "Materials Science and Engineering" Department and expanded its field of pursuit.
Anadolu University has achieved firsts in various fields such as open education, civil aviation, education of disabled people and has been a pioneer. Today, the development levels of countries are measured not only by their economic development, but also by developing and expanding services for the disabled in that country. In this context, Eskişehir has come into the pioneer position in a very matter, particularly Turkey has become a center for the education of the disabled.
Eskişehir has become the center of both military and civil aviation. These enterprises were not satisfied with using (hi-tech) advanced technology, and also took up the task of raising manpower in all areas of the aviation industry.
Medium and large-scale enterprises replaced Eskişehir's traditional "labor intensive" terracotta-based industry with the establishment and development of the Organized Industrial Zone. Soil has not only become the raw material of brick and tile, but has become one of the basic industrial items in which vitrified, construction material and various household goods are produced. Soil in Eskişehir has also been the basic raw material of ceramic art.
Eskişehir has rich resources especially in terms of magnesite, borax, sepiolid mines and marble quarries. One of the most important wealth of Eskişehir is the "boron" mine. Boron, which is used in many fields from nuclear industry to spacecraft, from fertilizer industry to pharmaceutical industry, from chemical industry to automobile industry, is expanding day by day with its scientific and technological developments.
Meerschaum extracted places in Eskişehir are: Sarısu, Yenişehir, Türkmentokat, Gökçeoğlu, Karaçay, Söğütçük, Sepetçi, Margı, Nemli, Kümbet, Yeniköy, Kepertepe, Karahöyük and Başören.